If your looking for car electrical repairs within Westhoughton and surrounding areas. Look no further, here at CPS Autos we have the ability to find almost all electrical faults that can develop with your car. We know that car electrics can be a struggle to diagnose, we have put our time in to extending our knowledge so that we can provide to best service for you. To make it even better, we do all this at a very competitive price.
Modern vehicles these days are equipped with their own troubleshooting systems. With the right tools these On Board Diagnostic (OBD) can help pin point an issue with your vehicle electrical system. These systems take thousands of readings from your car's sensors, continuously compiling information about how everything's working in the vehicle. When an electrical fault does occur, the system sends out a code and often results in triggering a diagnostic light. Has your ABS light turned on? Or maybe your Airbag light is on? There could be a fault with your car electrical system. Don't waste any time and money guessing what the electrical fault may be, just bring your vehicle into our garage and let our mechanics do the rest for you.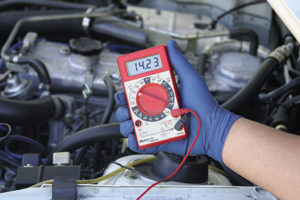 If you would like to know more about the services that we provide, or you would like to book your vehicle in at our garage, or you're just looking for a free quote, then please don't hesitate to get into contact with us and a member of our friendly team will be in touch with you shortly.